Hedge Fund in a Box
One solution to all your enterprise algorithmic trading problems. We make data and technology management seamless
Trusted & Maintained Code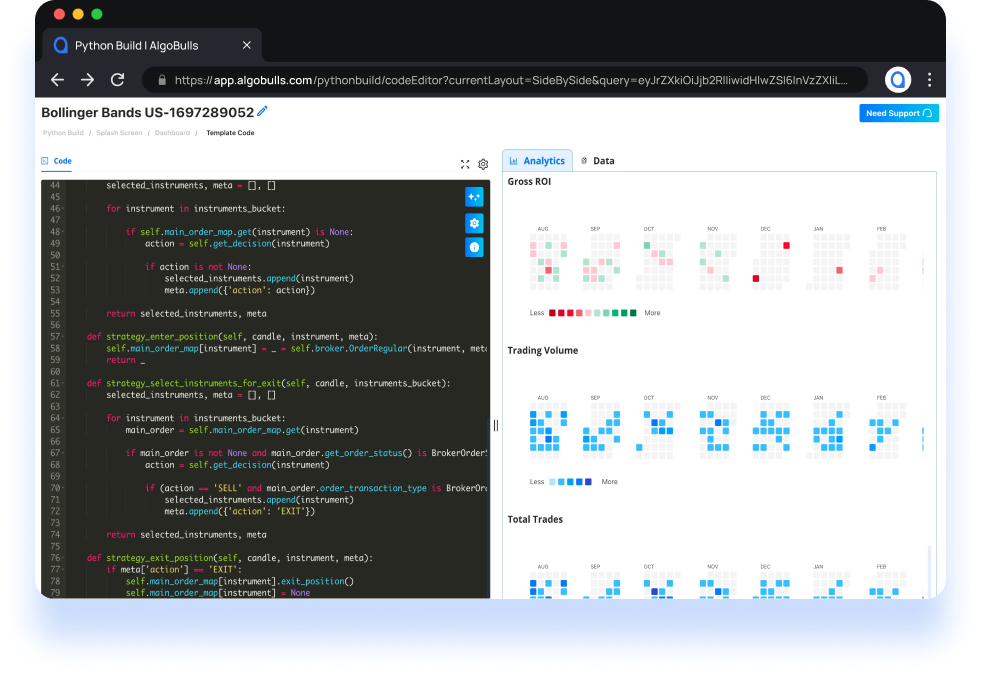 At AlgoBulls, we understand this pain intimately. It's time to shift the paradigm, where technology works for you, not against you. Let's elevate your trading experience together with Python Build
$
1

+ Billion

Trading Volume
ENTERPRISE OFFERINGS
Elevate your Enterprise trading experience
Python Build extends beyond individual trading aspirations; it's the ultimate solution for businesses seeking unparalleled trading efficiency. Explore our tailored B2B offerings designed to optimize, enhance, and streamline every facet of your enterprise trading journey:
Platforms
Choose from a versatile array of trading platforms that empower your algorithmic journey. Whether you prefer Python Build on the web or locally, mobile apps for trading on the go, pyalgotrading for precision, Jupyter notebooks for flexibility, IDE for coding excellence, or command line for command and control, we've got your trading needs covered.
Strategy Development
Unlock the full spectrum of strategy development possibilities. Code your strategies your way, from 0% to 100% customization. Utilize our ready-made templates for a head start, harness the power of our Gen AI to generate strategies effortlessly, build your strategies from the ground up, or collaborate with our expert team for tailored solutions. Our detailed logs and analytics provide insights that elevate your strategy executions.
Strategy Execution
Execute your strategies on your terms. Choose from Back Testing, Paper Trading, or Live Trading without altering a single line of code. Enhance your optimization strategies by bulk backtesting.
Market Access
Dive into the world of trading across Equity, F&O, Commodity, and Currency segments in both Indian and US Markets. Tailor your strategies for global markets and segments with flexibility.
Security and Protection
Rest easy knowing that your valuable data and strategy codes are safeguarded. You retain complete ownership of your intellectual property.
Analytics and Reporting
The bedrock of creating winning strategies is thorough analysis. Our comprehensive suite of analytics and reporting features empowers you to dissect your strategy's performance, enabling you to refine and optimize it for maximum profit potential.
Infrastructure
Gain the capability to deploy the entire AlgoBulls Infrastructure locally or on your company's cloud. Enjoy the full spectrum of features and more with our extensive infrastructure support.
Support and Customisation
Our unwavering commitment to your success means we're here for you at every turn. Whether you require tailor-made strategies, personalized whitelabels with custom branding, custom webhooks, web back offices, or any other form of support, we've got you covered. Your unique needs, our unwavering support.
AlgoBulls Pricing, Simplified
Choose from a range of pricing plans designed to meet your specific requirements.
Small Business
$999x2 Lic./month onwards
Small Business
$999x2 Lic./month onwards
Enterprise Plus
$9999x10 Lic./month onwards
Python Build App
On Local machine
Web and Local
Mobile App
pyalgotrading (Github repo)
Jupyter notebooks
Programming IDE Support
Command Line
100% coding flexibility
Ready Strategy Template Library
Generate Strategy with AI
Easy Strategy customizations without changing code
Detailed logs for strategy execution
Real-time dashboard for Trade reporting
Detailed trade analytics (heat maps, stats and more)
Train AI model on custom strategy data
Copy Trading
Custom Trade analytics
Execution Speed
High
High
Backtesting
Paper Trading
Live Trading
Basket of Stocks
Unlimited
Unlimited
Bulk Backtesting for Optimisations
India Market - Equity
India Market - F&O
India Market - Commodity
India Market - Currency
US Market - Equity
US Market - F&O
US Market - Commodity
US Market - Currency
Custom Market, Custom Segment
US Markets' broker - standard
India Markets' broker - standard
US Markets' broker - custom
India Markets' broker - custom
Custom Markets' broker
IP Protection on AlgoBulls Server
IP Protection On-Premise
IP Protection on Custom Server
NA
Strategy Analytics Dashboard
Customer Analytics Dashboard
Admin Analytics Dashboard
Huge volume of data processing
Infrastructure
Local server (as executable)
Personal Server
Customised Strategy Marketplace Infra
Dedicated Server Rack
Custom Cloud
Custom Support
Custom Strategy Development Support
Whitelabels with custom branding
AlgoBulls powered Web Designs
Custom Web Domains
Support Web Back Offices to configure Whitelabels, access usage data for analysis
Custom webhooks
Infrastructure Customisation Support